News Archive
Catch up on the latest Planet Argon news and browse the archive with posts dating back to our first days using Ruby on Rails.
Planet Argon will hold its first Modern Web Dev workshop on May 6, 2013 in Portland, OR at the historic Kennedy School. This workshop will focus on new and emerging front-end development techniques including Bootstrap, SCSS, Jekyll and Github. The workshop is geared toward folks who are new to the front-end dev world or may be returning to it after a hiatus. This class will give participants the skills to build a site from scratch and launch it by the very same day.
We here at Planet Argon have always been interested in sharing our knowledge with the community and this is just one avenue we are pursuing in order to do just that.
We hope you will join us for our first Modern Web Dev workshop.
Planet Argon is excited to announce our partnership with Oceanscape Network, a new educational program developed by the Oregon Coast Aquarium, a leader in ocean conservation, education, and literacy. Located in Newport, Oregon, the Aquarium offers numerous educational programs for students ranging from preschool to college age. The Oceanscape Network will be designed specifically for older students as a means of engaging them with our oceans regardless of their location. Stay tuned for more news and information on the project set to launch later in the year.
Contact us today to find out how we can help you launch your next big idea.
Being proud Portlanders and avid soccer fans we wanted to create a site that would pull together social media posts about our team, the Portland Timbers. RCTID means Rose City Til I Die. This is the slogan for the rabid Timbers fans and a common hash tag on posts about the Timbers. Using a custom jQuery plugin, we were able to set up a site that would consolidate all this information into one place.
Check it out and see what all the fuss is about.
2012 was a big, enormous, giant year for the team here at the Planet Argon World Headquarters. We launched a multitude of new projects; we traveled for both work and pleasure; we blogged extensively about web development, project management, and capsized kayaks; and, most importantly, we got a foosball table. We're proud of everything that we accomplished in 2012, and we'd love to share our experiences, photos, and writings with all of you.
We thought outside of the box this year when designing and implementing our annual Year in Review page. For many of you, the Planet Argon team probably just seems like a bunch of extremely good-looking faces on the Who We Are page, but we're so much more! Join us as we flex our performing skills and reenact all of the major events of 2012. In addition to the immersive video, the 2012 YIR includes photos of our infamous antics and links to many of our blog posts, which can be consolidated into a reading list with a simple click of the mouse or tap of the screen. We sure hope you enjoy it!
We worked with McMenamins, and local design shop R/West, to help build out the McMenamins mobile site. As a result, we were able to move more of the functionality of the full site down to the mobile level. A more robust search feature was added to the site where you are able to search by keyword, amenity, event category, distance and date. This was crucial since McMenamins boasts over 50 locations and countless events and movies daily. We were also able to use HTML5 local storage to save searches and favorite locations without the need for user accounts or cookies.
Now customers will have an easier time finding the locations, events and movies McMenamins has to offer while they are out on the town.
Contact us today to find out how we can help you launch your next big idea.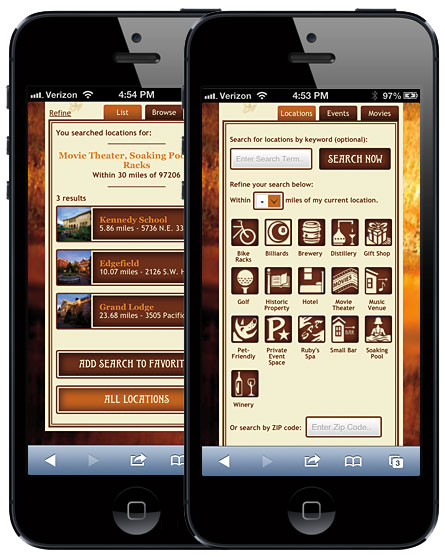 In 2009, we asked the community how they hosted their Rails applications and over 1,200 people responded. In 2012, we set out to find what had changed over the last three years, and 1,306 people took time out of their days to let us know how they were hosting their apps. This time, we're releasing the results back to the community along with a handy infographic that we've put together.
Planet Argon was enlisted to help, K-12 publishing company, TCI with new online tools for their existing student subscriptions. We were tasked with helping TCI's in-house development team organize and design their online resources with a heavy emphasis on mobile devices. Through the process we learned a great deal about the K-12 market and provided TCI with a gorgeous product to help them reach their goals of 'changing the world and the way students learn.'
Contact us today to find out how we can help you launch your next big idea.
Welcome to your FamilyLink network! Planet Argon recently helped launch FamilyLink, a device and service that enables caregivers and family members of older generations to interact with and monitor their loved ones remotely, while also maintaining the senior's ability to live independently at home. iKare Corporation approached Planet Argon with the concept in 2010, and have collaborated together to design and develop the web application component of the product, from ideation through deployment.
Contact us today to find out how we can help you launch your next big idea.
Several years ago we invited the Rails community to participate in a survey about the state of hosting Ruby on Rails applications and the results provided a better understanding of how people are currently managing their deployment and hosting process. Since the technology landscape has changed so much since then we wanted to again ask the community what tools and methods they're using to deploy their application. Like in 2009, analysis and results will be publicly available to the greater Ruby on Rails community.
We recently released a new white paper on the distinctions between Responsive Sites and Mobile Sites, which introduces businesses to two strategies for designing and developing a site that targets mobile traffic.